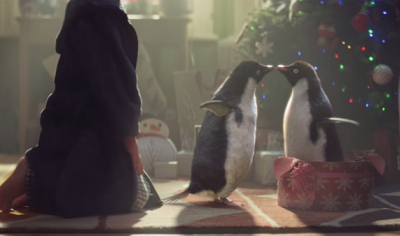 'Look what I bought you! I bought you a woman! She's yours! She belongs to you! Oh aren't you a lovely little penguin, you're going to be so loving and kind and sweet to her, that woman that you own. I'm writing to Santa right away, maybe I can have one for my very own too!
Not only do you now have your own gift of woman, but didn't you hear in the background? It's real love! You can buy 'real love' and put it in a box and wrap it up! It's a commodity! (available at all John Lewis stores.) Huzzah! Think of all the poems, novels, films, songs and plays that have been wasted lamenting unrequited love or lost love or the need and denial of love. Why couldn't someone just have told Romeo, he could have bought true love instead of wasting time killing people and stabbing himself and playing with poison all in the name of love? If only we at John Lewis had been there to reach out and touch his pocket- er, heart. HEART.
And, speaking of hearts and true love, haven't you heard? If you're a little single penguin riding on a bus with your trusty best friend, it MUST mean your life is unfulfilled! There is a woman shaped hole in your life that you must do your utmost to fill- try obsessing with unrealistic overly romantic old films that you can buy in John Lewis or staring at people as they kiss in the street wearing hats and scarves you can buy in John Lewis, until you've saved up enough money to buy your own woman. From John Lewis. Or, if you're really lucky, your pimp-in-practice best friend will buy it for you, and tie her box up with a pink ribbon to prevent any gender based confusion on the big day.'
So congratulations John Lewis. Instead of making your Christmas advert about Christmas, you had to bring relationships into it. By doing that, in just two minutes and eleven seconds, you managed to objectify women, perpetuate the myth that single people cannot live a fulfilled life, associate themes of adult relationships with children thus encouraging them to grow up even faster, decide that it turns out money can buy you love after all!, advise children that if their friends dismiss them in favour of this media spearheaded fantasy that they should just accept and encourage it, and present all of this as though it is some overwhelmingly heartwarming seasonal story-with-a-moral.
It's not the true spirit of Christmas; it's the spirit of a whole new level of emotional exploitation, all in the name of financial gain, and I say a bah, humbug, and I ain't buyin'.
- Sophie Swaine