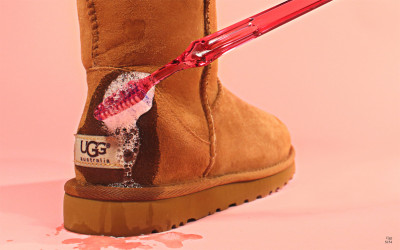 Image: Angela Campos / Memphis Workshop
Do you drink pumpkin spice lattes? Do you use emoticons when you text? Do you giggle? Do you like music that other people like or wear clothes other people wear? Are you a woman? Unfortunately, any of the above is enough to label you "basic," the ambiguous insult that made the rounds on the internet all through 2014. You may have seen the term pop up in lists, like 50 signs you're dating a basic bitch or 15 things basic bitches can't get enough of, or maybe a friend posted a tongue-in-cheek, self-deprecating status: "ugh, just binge-watched 'Friends' instead of doing homework—I am SO basic!"
But you would be hard pressed to define what the term means. Maggi Lange, of "The Cut" provides a quick etymology of the term, citing its origins in hip-hop lyrics from 2009-2010. Eventually the term was picked up by indie-rapper Kreayshawn who uses it in her song "Gucci Gucci." Lange notes the ambiguity of the term, writing:
"The Basic Bitch is "typical" and "normal" but essentially indescribable: Kreayshawn knows her when she sees her. By her circular definition, basic-ness is what makes a Basic Bitch."
After a College Humor video portraying a young woman being diagnosed as basic went viral, the term grew in popularity, most often being used to describe someone who is extremely average, someone who likes what everyone else likes (A brief aside here is necessary—that is, the acknowledgment that 'basic' went from being a term used within the black community to describe "typical" black women, to being appropriated by the white community to describe "typical" white women. Some have argued that the term is not only sexist, but also culturally appropriative -  see here and here.) One of the Urban Dictionary definitions describes the basic bitch as "someone who is unflinchingly upholding of the status quo and stereotypes of their gender without even realizing it. She engages in typical, unoriginal behaviors, modes of dress, speech, and likes. She is tragically/laughably unaware of her utter lack of specialness and intrigue." Notice that the definition starts off gender neutral, "their gender," but then immediately falls into using "she." That is perhaps the most consistent feature across the various definitions—even when "basic" is divorced from its gendered counterpart, "bitch," it is always used to describe women. Basicness is a female affliction.
Trivializing and mocking "women's culture" is nothing new. Whether it's a new vacuum cleaner, or a new purse, the things women want (even when they're not things women actually want) are portrayed as frivolous. Women's work is easy and unimportant, women's magazines are inane, women's conversation is trite, consisting of nothing but gossip and sentimentalism. The advantage of the term "basic" is that it can suddenly encompass whatever women do currently—whether it's housework or fashion, the message that woman are dumb and what women do is dumb still applies. By its very definition, "basic" will always apply to most women (because if the majority of women don't like a thing, it isn't basic), even when that caricature of women proves inaccurate. Do most women actually like the show "Sex in the City"? Do most women follow astrology? The accusation that women are 'basic' is doubly offensive; first, because it assumes a number of purposefully selected frivolous clichés accurately describes 'most women,' and second because the term is designed to target the 'average' woman, no matter what she's like. And certainly, plenty of women do like 'basic' things. The list of infractions includes often-mocked, stereotypical female fads, like wearing Ugg boots with shorts, or having glittery picture frames with photos of your friends, alongside more ubiquitous practices like wearing scarves, drinking pumpkin flavored drinks in the fall (do guys not do that?), or even, and this is for real, liking bagels.
Are men 'basic' when they drink beer? Or when they wear hooded sweatshirts? Or when they watch football? As Lange points out, the closest equivalent term for men is probably "bro," but in most cases being a 'bro' is a good thing. Certainly there are those who use the term critically, to mock mainstream male culture—but the men who self-identify as bros are able to do so with pride. Lange writes, "the true bro…is obsessed with bro-dom and with embracing a prototypical bro life alongside his brethren." Meanwhile, even women who self-identify as 'basic,' have mostly done so apologetically, self-deprecatingly. There has been a push, toward the end of 2014, to reclaim the term as something positive, like in this article by Daisy Buchanan at The Guardian, or in this "faux gift guide" which was created by conceptual artist Angela Campos and  is "meant as a celebration, proof that basic can be beautiful, interesting and worthy of admiration." Seeing some backlash against "basic bitch" as an insult has been refreshing. Nevertheless, the general connotation of the term still remains overwhelmingly negative. As the "50 signs you're dating a basic bitch" list reminds us, men don't like or value basic girls. You better be something special, something better than the average, dumb woman if you're going to win a man's interest, or respect.
There is, I think, room to make a valid critique of the standardized consumer culture that drives everyone to follow the same trends. Too many people do seem to simply like whatever they're told to like, at the expense of developing their own personalities and interests. But why is it specifically women being targeted? Why is women's autonomy always suspect, women's individuality always questioned, women's culture, whatever it happens to be, always invalid?
In using the term 'basic,' we are continuing a long-standing tradition of caricaturing and mocking women. I sometimes wear leggings as pants. I like bagels. I have watched romantic comedies with my friends. And I refuse to accept that the interests that women share and bond over, whatever they are, are somehow shameful. So please, let's stop throwing the term 'basic' around as if it actually means something, and let's finally stop treating the idea of the 'typical woman' as if it's an insult.
- Maia Dendinger