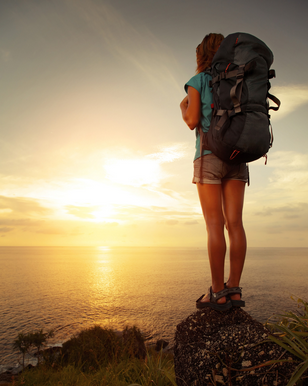 What music should you listen to when about to commence writing about a personal account of rape? This is what I'm considering right now. I have a dark sense of humour, but when I was about to make the long bus journey from Barcelona to Almeria, and I thought to myself : "Ok, this is my first couchsurfing experience; worst case scenario the guy rapes and murders me", I didn't think I would be half right. However, I am happy I wasn't murdered. A number of my friends possibly believe that I put myself in more risky situations with men than a lot of other women do. I'm perhaps a little naïve, and like to believe that good people, and good men, do exist. And they do. Although, I was a little unsure of the category José fell under.
I arrived in Almeria at around 11pm. I knew very little about my host, José. He sent me an invitation on couchsurfing, which I accepted, somewhat ironically having turned down another invitation to go to Madrid (the destination I originally had in mind) to sleep in a "big bed" next to a random Italian I had never met before. I actually thought I had taken the safer option. I felt uncomfortable around José – this was my first impression. But I like to give people the benefit of the doubt. He was introverted, shy and somewhat awkward. And he was very intelligent, a real academic. I got into his car and he drove us back to his family's home. After having lost his permanent job as a teacher, he was living back at home with his parents and a few brothers and sisters, all of whom spoke no English. The house was in the middle of nowhere, between two small villages. I had no sense of the direction we drove in since it was night time, and I had been on a bus for thirteen hours. I wasn't exactly taking notes or plotting escape routes. I tried to be polite, made conversation, but could barely keep my eyes open. I was lucky enough to have my own room. I slept amazingly well.
It took me three or four days to feel comfortable with José. I grew to like him. I felt great sympathy for his circumstances. He was clearly depressed about a lack of work, the economic situation in Spain, and also the lack of girlfriend. At one point he demanded of me in a very sudden and awkward way: "Let me love you!" I said I couldn't. I was a traveler, not looking for a boyfriend or for love, maybe just a fling. I said to him that sleeping together would be a bad idea because we really weren't at all on the same page. I thought it would be cruel to get his hopes up. On the fourth night, he seduced me and I considered changing my mind.
I wondered about my attraction to José. Was it physical? Emotional? Or did I just pity him? Couchsurfing with him was one of the most emotionally confusing situations I have ever experienced. I felt his sadness so deeply. I was desperate to help him in some way.
His attempt at seducing me in his bedroom worked. I did feel that I wanted to have sex with him. He told me we should go to my room because his room was opposite his parents. He suggested a cup of tea. I agreed.
He brought tea to my bedroom. I sat on the bed and he sat on the chair. I let him close the door. I let him undress me. I didn't want to kiss him, but eventually I let him. I liked the feeling of being touched at the beginning. He examined every inch of my body, studying me like some kind of specimen. He touched me but I didn't touch him back. He told me to, to show him some kind of love. Anything. I felt sorry for him. I told him I couldn't love him and he said that he didn't want my love anymore, or to have a relationship with me. He just wanted me. Maybe just my body. He told me to close me eyes, and he continued to touch me. I said it didn't feel right anymore, and I tried to push him away. Not too forcefully though because I was afraid. I was completely dependant on him. I was in his family's home. I didn't know how to get to the nearest town. His family spoke only Spanish. He touched me. Then he turned me around onto me knees and stomach. I told him to stop, repeatedly. He didn't.
It sounded like he was crying. I lay very still afterwards. I asked him why he didn't stop and he said that it was too late. I said that was bullshit. He laughed. He said that was the first time he heard me swear. He tried to touch me again and I pulled away from him. I got up and had a shower. When I came back into the room he was dressed and remaking the bed meticulously. I had never seen a bed being made so perfectly, despite the stain on the sheets. I watched him as I put fresh clothes on. He had folded the clothes he removed from me and placed them in a neat pile on the table. He was a perfectionist. After he made the bed he went to have a shower. I turned the light off and got into bed. I didn't know what had just happened. I felt physically disgusted, like I was a piece of meat.
This was my experience of rape. I wondered if it was my fault, if I had led him on. But I should be allowed to change my mind. I should be allowed to have control over my own body. I wondered about language and cultural barriers. How ridiculous – José was an English teacher.
This was not the stereotypical idea I had in my mind of how rape occurs. I wasn't attacked by a stranger in a dark alley. I was raped in the family home of my host who was supposed to be offering me accommodation as a gesture of hospitality. His family was home when it happened.
José drove me to the bus station two days after he raped me. I don't know about other people's experiences of rape, but I had the opportunity to confront him about what he did to me. He apologised in a meaningless way, as though he had accidentally trodden on my foot. I was frustrated. I wanted him to feel much more guilt than what he did. I had felt so much empathy towards him, and he had none for me. He didn't realise the severity of what he had done, or at least he didn't appear to. I made him drive me to a chemist to buy the morning after pill. He said to me on a subconscious level he knew I was trapped at his house, and that he wanted to get me pregnant so that I would be forced to stay with him. How fucked up, I thought.
Still, I wasn't sure of my feelings. I knew that I had been raped, but I still pitied him. It was a strange combination of pity, anger and disgust. It wasn't until three or four months after it happened that I realised how he manipulated me emotionally. All I feel for him now is anger.
I consider myself a feminist. Generally in life, I feel like a strong, liberated woman; in control of my mind, my body and my sex life. It wasn't until this happened to me, that I really started questioning my sense of control. I started thinking about other situations I had been in previously where I felt I was coerced into having sex, when I hadn't really wanted to, but I went along with it anyway. The feeling of rape for me wasn't at all like the feeling of consensual sex. Rape is like someone masturbating with your body. You are made to feel like nothing but a tool for someone else's stimulation. No person deserves to feel like this.
So here I am, listening to music, and writing about my experience of rape. I am certain that there are many other people who have had similar experiences that don't conform to the stereotype of "girl attacked in dark alley". I wanted to share mine because I'm choosing to own it, to not be ashamed about speaking out about this very taboo subject, and to make others aware that this happens much more often than what people may think. I don't want to feel like a victim. I would encourage other people to also speak out. I left it too late to report José to the police, but I did report him to Couchsurfing, and his profile was deleted from the website. I have since had very positive experiences couchsurfing with other single men. Like I said, there are some good ones. I will however be plotting escape routes in the future. Better to be safe than sorry.
- Benita Dass-Grasse