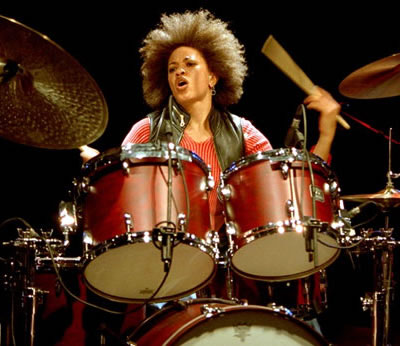 I hung up my drumsticks when I was seven months pregnant.  I spent the last five minutes of my otherwise fairly glamorous drumming career wedged between a snare drum and the sweaty back wall of an Oxford venue, desperately waving my arms around in the hope that someone would notice my predicament.  After an undignified amount of time, some roadies freed me and I left the stage to go and give birth.  If I had known that I would be the last female drummer to regularly take to the Oxford music circuit, however, I would have stayed put, grimly paradiddling my way through each contraction and beyond.
So, why the dearth of female drummers?  This isn't just a local problem – women are vastly under-represented in the music industry as a whole and the muscular world of drumming seems to be uniquely difficult to infiltrate. I believe there are a number of reasons why women don't become drummers; some of those reasons are superficial and easily dismissed, and others are so entrenched and insidious it is hard to hold them up to scrutiny, let alone overcome them.
So let's start with the easy stuff.  These are the made-up reasons that women don't become drummers: 1) They can't lift the stuff.  2) They aren't strong enough to hit drums. 3) They can't co-ordinate their limbs as neuroscience suggests that their brains are shaped like swans.  Or whatever it was that neuroscience last suggested about the fundamental, immutable differences between men and women.  I think it was swans. 4) They are better suited to being singers and backing singers.  5) Er…Oh I don't know.  Whatever it was, it was bobbins.  I disproved all of those myths during my time with three bands, so we just don't need to talk about them anymore.  Let's move on.
'Well, what are the real reasons?' I hear you ask, breathily.  Well, the real reasons are the same old bloody buggering reasons that underpin every aborted foray in to the public world for women.  Let me trot them out again for you just in case you have attempted to forget: lack of role models (I plumped for Animal from The Muppets in the end, he was small and red, a bit like me); intense Twitter-fuelled scrutiny about every inch of any woman's body, supported by a lexicon of shame and disgust (handily reported to us by the Mail Online, one of the most widely-read 'newspapers' in the country and the most widely-read website in the world); external and self-imposed oppression in the form of obsessing about weight and appearance; institutional structures that favour ambitious career trajectories and competitive workaholicism and so on and so on and on anonanon mnah-mnah (as Animal might have said).  In the seventies, feminism was all about identifying and rejecting the straitjacket of patriarchy.  Nowadays, balancing a champagne flute on your oily arse is considered empowering.  This creates immense confusion about how to get people to take you seriously when the women with the most money and influence often seem to be wearing the fewest clothes.
It's no wonder that young women are unwilling to raise their heads above the parapet in any field: they fear the backlash, and understandably so.
Sometimes it feels hard to do much about this beyond resting your head on a nearby cat and sobbing heartily to the tune of I Will Survive. However, before your cat becomes too enraged, I would like to propose a call to action.  I'm a great believer in the power of the individual and today I cordially invite you to rage against the machine.  If you are a man, take a day off to take care of your sick child.  If you are a woman, ask for a pay rise.  Challenge damaging sexism wherever you see it, even if people scoff.  Write snooty letters to companies who insist on making their chocolate eggs gender-specific.  It doesn't matter really what you do, you should do it in the sure knowledge that these kinds of sexist attitudes are damaging for both men and women and need to be confronted.  I have a son and a daughter, and I want them both to feel free to make choices that aren't carefully marshalled for them before they've even left the womb.  It's up to everyone to make that happen.
Shami Chakrabarti recently said that she believed that gender inequality is 'the biggest global injustice'of all. She's right.  I suspect that the world would be rather different if women were equally represented in all areas of public life, and men were equally represented in domestic life.  It seems like an arrogant leap to connect Chakrabarti's statement to my own experiences at the fag-end of the music industry, but it's all part of the same thing.  We all have something positive to contribute to this struggle, whether it be a grandiose and existential challenge to the status quo, or a rimshot delivered in a toilet venue by a clenched female fist. So let's keep the beat going.
-CHS