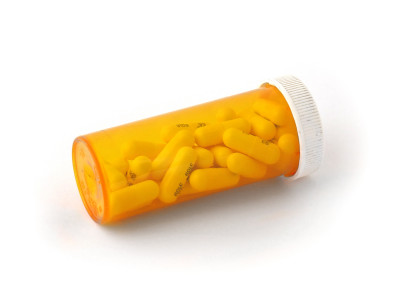 I would like to be known as the pharmaceutical industry's Official Worst Nightmare. Why, you ask?  Because as I am typing I can feel tiny popping sensations in my brain, cleverly called "brain zaps" in the medical community.  Breathing is an effort.  My heart is desperately trying to escape my chest.  That's not an attempt at a meaningful, poetic statement.  I mean my chest is literally pounding up and down, as if my heart is going to break through my ribcage.
​Let's put it this way: if I was not aware that I was experiencing the withdrawal effects of Effexor – a medication usually used to treat depression, but which was prescribed to me to help wean me off the anxiety medication Ativan – I would take a five hundred dollar ambulance ride to the nearest hospital right now.  This, my friends, is the cost of placing your precious health in the hands of Big Pharma in my home country of the USA.  I am guilty (guilty makes it sound like it's my fault… let's go with "blissfully unaware") of falling in love with my collection of prescription bottles.
It is no exaggeration to say that I would discuss these prescription bottles, in the past, with barely concealed pride – almost as though being heavily medicated made me darkly cool and eccentric.  But I've recently come to the conclusion that if being hip means taking not just Effexor, but Adderall for ADHD, Wellbutrin for depression, the aforementioned Ativan, and any number of others for sleep, concentration, side effects of other medication and more, then I would rather be the dorkiest person in the universe.
My transition from "pill enthusiast" to "will taking another Advil harm my liver?" hasn't been easy.  Medi-Katie (medicated Katie) roamed this planet for five years, making careless decisions and throwing keys (or whatever was in reach) at unsuspecting boyfriends.  When I first made the decision to quit, I did a Google search about the withdrawal symptoms.  I craved stories written by real people with no agenda other than helping others feel less like a crazy person.  And I wanted to add to the discussion.
​I want to go deeper than the possible negative side effects you hear in TV commercials in America: "mild nausea, stomach cramping, headache… death."  Wait, what? Did you just say death? Yes, but don't worry about it – just look how happy everyone in the advert looks now.
First of all, when death is casually thrown into a list of side effects like it's as innocuous as a stomach cramp, shouldn't every viewer stop checking Reddit and throw their remote at their television? When did "we the people" decide, collectively, that it was okay to advertise a potentially fatal pill between episodes of American Idol or The Mindy Project?  The same subtle psychology and soft music convincing you to buy a new car or take that dream vacation is coupled with the happy side-effect-listing-guy, a beautiful girl riding her bike and going on a trendy brunch outing, and a deep voiced announcing promising you'll never feel sad, or afraid, or sexually inadequate again. Talk about a recipe for brainwashing success.
So how does this mechanism play out in real life, when your doctor's office is portrayed on TV and in magazines like a veritable candy store? Well, in my personal experience, it's pretty much exactly like this:
Patient: Um, yeah. I saw an ad for a new anxiety medication and I want to try it.
​Doctor: Great! Here's a script for a 90-day supply.
And that covers it. In my five years of "pill shopping" I almost always left my appointments with the prescription that I suggested, and I barely passed high school chemistry.  Not once did any of my doctors attempt to talk me out of trying that great new drug, that hot new pill I thought I'd check out. They simply nodded and wrote me out of the office.  America: home of the free, the brave, the permanently doped.
A few years ago, I was enjoying a pancake breakfast in a New York City diner and the guy behind me was loudly chatting with his friend about his own personal stack of meds. What really disturbed me about his conversation, apart from the fact that it was generally irritating, was that I knew way too much about every single drug he named (and there were quite a few). That's just how it goes in the States. Tired? Anxious? Sad?  Hey, there's a pill for that! We are a nation in a love affair with quick fixes, overly familiar with them as household names. And this romance is quite literally killing us.
Since I have stopped my prescriptions, I am much more in tune with my body and what goes into it. On drugs, I couldn't have cared less. Fast food, soda, and in some cases, overdosing, were all fair game. If I had a really rough day, it wasn't abnormal for me to pop four Ativan instead of the prescribed one every eight hours (or my favourite: "as needed"). Addicts, surprisingly enough, have trouble knowing when to stop – and when your supplier is so happy to be lied to, it makes it all the easier. Walk in there, recite: "I'm doing great! The drugs are really helping! But I do think I need a higher dosage – my anxiety is crazy right now," and you're in. The only problem? Another classic addict hiccup: it's horrendously expensive. If insurance doesn't cover your mental healthcare, then you're looking at a very expensive bill for a ten minute joke of an appointment.  I'm saving over $300 a month nowadays by eliminating medication checkups and prescriptions alone. Think about how much that money really means, multiplied across the nation.
The problem with our prescriptions is that they begin to control us, even change us, when we take it too far. I was insecure and sheepish before I started coming off my prescriptions.  That's not who I am! I'm a delusional drama queen with the kind of naïve confidence that makes me think I can easily become famous but I just haven't found the right avenue yet (film? Television? Theatre? These are the difficult choices I still currently face).  And guess what?  I LIKE that Katie.  She is the girl lucky enough to have seven awesome siblings, a cross-eyed cat with a heart of gold, and a hot, bearded boyfriend with whom she credits a portion of her new-found happiness (just a portion, now – girl power is still important to me.)
​Sure, I sometimes still get extremely anxious in social situations.  I am easily distracted.  I often think of twenty things at once. And there was a time when I became convinced that these aspects of my (fully functioning) personality were in fact symptoms of multiple mental illnesses. But Big Pharma — Wyeth, Pfizer, Eli Lilly, Novartis, and Sandoz, to name a very small few — can keep its daily dose of lethargy, indifference and passivity now. I refuse to bury my negative feelings in addictive drugs that are sold as miracle cures for every minor human inconvenience.  The price of buying into them is just too high.
​I'm not advocating never taking a single pill for a legitimate mental illness, or relying on poultices and ancient remedies to regulate the imbalances of the four humours. Medicine has its place and it saves lives everyday. But here in the US, we deserve to be better informed about the pros and cons of the things we put into our bodies rather than blindly marketed a vast array of quick fixes that promise to smooth us out into easy, emotionless cardboard cut-outs with hundreds of pill bottles stored up in our bathroom cabinets.
Is that too much to ask? (If you answered 'no' then I think we're on the same wavelength here, so let's maybe hang out and talk about this over coffee.  The only side effect you'll experience is fun!  Yeah, I was trying to go for a cute ending.  Just go with it.)
-Katie S