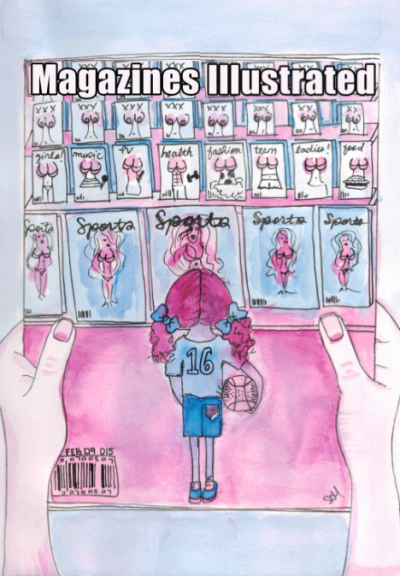 On Monday, Sports Illustrated released its new, almost vagina revealing, cover for the 2015 swimsuit edition. This resulted in much parent outrage and lots of news articles discussing whether or not SI went too far this time. Maybe. But my question is, are people just as bothered by way women are shown on ALL magazine covers ALL the time? And that's before you even get to the ads. So while everyone is up in arms about Sports Illustrated, maybe it's a good time to talk about "Magazines Illustrated" too.
Yahoo! news asked what it is that this new Sports Illustrated cover teaches our kids. Well, if you look around a magazine aisle at any local store, you would probably conclude that it teaches them "business as usual". Not only does Sports Illustrated feature this style of cover frequently, but so does pretty much every other magazine on the shelves. Regardless of the magazine genre, kids are regularly seeing covers where women are squeezed into condom sized dresses, wearing bikinis and holding dumbbells, or are photoshopped into barbie sized proportions. So is the problem really the latest SI cover?
In this same magazine aisle, a woman trying to breastfeed her baby is told it is inappropriate. Photos with any hint of a nipple are taken down from "family friendly" websites, and the rules on when and where to show our breasts seem to be written by everyone but us. Well, sorry Duane Reade employee, we didn't know all the rules of where, when, and how much breast is allowed.
This illustration features a kid athlete who stopped because she saw the word "sports". Maybe the cover was confusing for her. Maybe she got into trouble for dribbling in the store. Maybe one magazine cover doesn't even affect her. However, looking past the first row and seeing the same style of portrayal over and over and over is a different story. What's frightening isn't the existence of these covers, but that they often appear to be the only option.
- Shamikah Christina Martinez is an actor-filmmaker-artist based in Brooklyn New York.