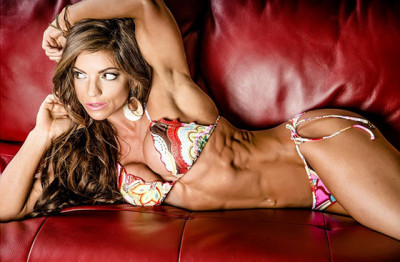 Recently, I joined the gym. And I was slightly worried about it. I was worried that I would use it a couple of times and then peter out in favour of bed and biscuits, thus wasting £45.50 every month (discount price!). I was worried that by joining I would start to value my achievements in terms of calorie deficits and waist size, and that I would slip back back down the route of anorexia and bulimia that I have travelled down before. I was worried I would fall off a treadmill in front of strangers and someone I only vaguely knew so we couldn't laugh about it. I was worried that I would be surrounded by offensively beautiful, tanned and toned athletes smugly eyeing up my time, heart rate and resistance level, and that would make me feel like a fat white maggot anxiety-sweating away on the cross-trainer, panicking about boring things like jeans sizes and 'bikini bodies'. Because of these worries, I decided to have an induction from one of the personal trainers, who did give me some very useful practical advice. But he also said to me, 'Oh, and don't worry about getting really muscly. I know a lot of girls worry about bulking up too much – but you'd have to put in some serious hours for that.'
At the time, I just laughed inwardly, because it seemed a stupid thing to say – 'Don't worry about our products actually working!'- but while anxiety-sweating away on a cross-trainer one day and staring down people who were eyeing up my screen, I really thought about what he said. I know he was just trying to be nice, but I wanted to ask him: why should girls worry about getting too muscly? Why can't we be strong? If I tone up my body, will people point in the street and shout: 'UUURGGHH look at her! Look at her disgusting muscles! She can probably carry her own bags and open doors herself and everything! Let's get her!'
Of course they won't. But since I started thinking about it, I've noticed that this attitude is more and more prevalent everywhere. My favourite TV personal trainer is Heidi Powell; her insight and attitude – not her body- has genuinely changed my life for the better, as it led her to achieve great things, and to inspire me to believe I can achieve great things too. I've tried to explain this to a few friends, and have been told each time 'oh no, she's too muscly for me,' before they immediately dismissed her and lost interest in what her views and achievements may be. A friend of mine used to swim at a very high level, and she described her own body as 'disgusting, I'm so glad I stopped swimming.' I've heard athletes described as 'butch' and 'dykey', rather than incredible for all they have accomplished.
These views have told me two things: women should be sexy, and apparently, it isn't sexy to be strong. This idea is a fairly subtle one, but it is shameful and dangerous. It's an idea that tells women to put their goals as second priority to being attractive to a man. Don't be strong, it says, you'll undermine their masculinity, and they won't want you.
I think it's time we muscled in on this idea. Because skinny isn't sexy, and strong isn't sexy – necessarily. Sexy is sexy. It is not a body type; you can be lean, lithe or large and still be a beautiful, luscious, attractive sexy woman. Your sex appeal is something you create and enhance – it's your connection and relationship with your body, not your body itself. It's a power, a freedom and an art form, but most importantly, it's yours. You can do with it what you like: you can celebrate it, express it, or keep it all to yourself. We don't ever have to be sexy, for anyone or any reason.
And our bodies, like our sex appeal, are ours. And they are amazing, all of them. Mine tells me if it's hurt, it lets me walk, run, see, climb mountains, hear, eat, laugh until I cry, do burpees and push ups (I'm not going to call them 'man push ups' because that's not what they are), feel, sleep, dream, get drunk, swim – anything I want. It has never really let me down, even though it's got broad 'lumberjack' shoulders, its head is a little bit too small for it, it's a size 14 most of the time, it's not tanned and it's not a 'bikini body'. I don't care – it's mine. We've been through a lot together and I'm not about to consciously step down the road of punishing my body again for not living up to other people's expectations, because I know where that can end.
And anyway, the women who have had the greatest impact on my life have not impacted it with their sex appeal or their bodies. These are not the best things about us. The reason Heidi Powell is my favourite TV personal trainer isn't because of her body – it's because she is the elite without being elitist, and she's truly great at what she does because she sincerely wants to help other people get the most from their lives. The reasons my friends inspire me every day has nothing to do with how sexy they are. It is not our sexy bodies that make us worth something, it is our own personal achievements and our wisdoms and the moments in our lives when we step up.
So, in answer back to the advice of the gentleman at the gym: thanks but no thanks; I wasn't worried. I want to achieve great strength from my body, and that shouldn't be something I should worry about. I don't care that it may change how people rate my sex appeal. The only way I'm bowing down now is if I'm doing a push up.
-Sophie Swaine