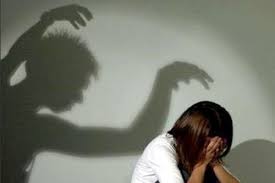 This was genuinely one of the first images that came up when we googled "rape victim."
Whilst many newspapers have recently taken the positive steps of having strong ethical editorial rules on how they report on rape and sexual violence, there is a divide been the words on the page and the image tacked alongside them. From broadsheets to tabloids, clickbait to blogs, 'stock image rape victims' push the same reductive narratives and myths.
The 'stock image rape victim' is almost universal within the British press. Hunched over like a gargoyle, there she is. She's sprawled on a bed or on the ground within a darkened room; lurking in the shadows. Sometimes for added drama, she'll be peering timidly through curtains or window blinds, allowing slits of light and dark to reveal the outlines of her body, like a zebra crossing or a barcode. In others, she clasps her fingers over her face in despair and shame, her gaze obscured by a net of knotted knuckles.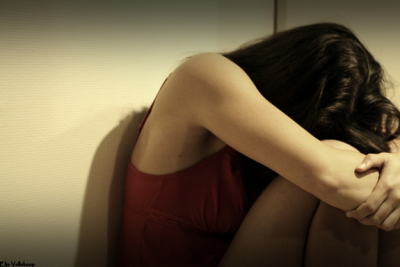 As a journalist specialising in issues of sexual violence within my writing, I've noticed more and more how many quality newspapers trot out the same images, undermining their supposedly thoughtful, supportive messages to victims elsewhere in their articles.
The images reduce the victim or survivor of sexual violence to a 'dark and demented' trope. The victim is presented as goblin-like and unhinged; lurking, ashamed and disturbed in literal shadows. This simplistic narrative pushed by the media only gives weight to cliched ideas and the many stereotypes and myths surrounding rape victims. That they are troubled, constantly distraught and inarticulate.
With the many victims of sexual violence who I have met and interviewed whilst writing about the issue, I have seen people deal with their experiences in different ways. There is no denying the huge trauma of these crimes and the enormity of the pain and suffering, but it is disingenuous and offensive to survivors to paint them as constantly unstable, gibbering wrecks. To do so only adds to the stigma which many feel.
Perhaps one of the most problematic features of these "lurking in the shadows" stock images, is the models faces, or lack thereof. Invariably the model's face will be obscured, by either a dark shadow cast across her face or by her own flesh as she encases her face in her fingers.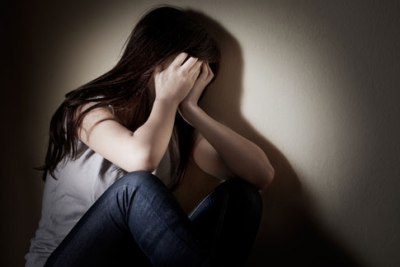 One of the reasons why the stock image rape victim's face is obscured might simply be down to practicalities. With inexperienced or poor quality models who often fill the books of stock image photographers, they might be more used to creating scenes of them laughing with salad, or reproducing the basic poses that form the stock image catalogue. The image of the rape victim is by far one of the most emotionally complex ones for both model and photographer to recreate. Perhaps some feel its better to show no facial expression at all, then go for complex emotions and botch them with a poor model and this leads them to obscure the face to avoid taking that risk.
But the result of these faceless victims is disturbing and feeds into many of the problematic narratives perpetuated by the media surrounding rape. This renders the victims faceless, almost decapitated, blank spaces. There is no person behind them, they are simply a vessel for emotion, trauma and grief.
The victim does not look like anyone you know, they do not look like you, or your mother, your father, your friend or your colleague. They are not a real person, with distinguishing features or unique characteristics. The victim is a phantasmagorical floating idea. This only cements the mistaken idea which many people have that rape is something that happens to 'someone else'.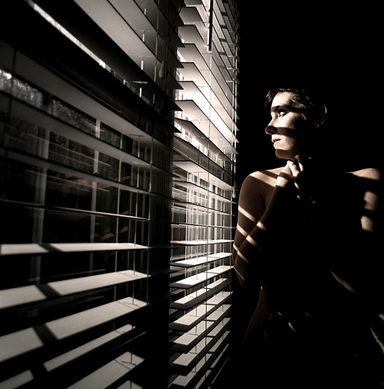 It furthers the idea of the victims as being 'other'; people who are not like us, going through things unlike anyone we know, and in ways that don't affect the people we know. We are encouraged to think of rape in the abstract, not something that happens to real people. This only distances people from the reality of the prevalence of sexual violence within their own communities and social spheres.
Furthermore, the stock images are invariably young, slender white women. This ignores the experiences of many men, older people and people of colour. Instead, the focus is on establishing a 'damsel in distress' type narrative, of attractive young blonde girls who need protection and sympathetic gaze.
Much progress has been made by many media outlets in recent years when it comes to how we report on sexual violence. We shouldn't let sensitive, supportive articles be undermined by the images we use to illustrate them. We strive to challenge media narratives and cultural myths of the 'ideal' or 'real' victim of sexual violence elsewhere in the press. It's time we addressed the 'stock image rape victim' and everything she represents too.