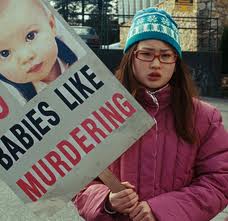 It was summer break, and my husband and I were going to Hawaii for the holiday.  It was at one of those resorts with the all-inclusive-never-ending-mimosa package, and we had both had one hell of a year.  Yippee!
It was finally the day we were to catch our flight, so of course, I had the worst sinus infection ever.  Well, I didn't want to miss my trip. I went to my doctor and got antibiotics.  No big deal, right?  24 hours and 8 rum-filled fruit drinks later, my husband and I had sex: unremarkable, marital, drunken, slightly sandy sex. Par for the course.
There are probably many people who, while reading this, are able to pinpoint my fatal flaw.  Antibiotics and birth control do not mix well.  In fact, antibiotics make birth control quite useless.  I shouldn't have been too surprised when, five weeks later, I was extremely puzzled over my sore breasts, constant fatigue, and new difficulties in working out at the gym.  I routinely skip the non-hormonal pills if I'm not feeling like having a period, so there was no giant "I'm late" talk with my husband.  Nobody, not even my doctor, warned me of this interaction.
When I found out I was pregnant, my immediate reaction was to recoil in horror, throw that little plus-sign out the window, and bang my head against the wall while thinking stupid stupid stupid stupid stupid.  My husband had a similar reaction.  We are both young, educators (we're in it for the outcome, not the income!), enjoying our freedom and flexibility, and nowhere near ready to care for a child.  I wasn't looking at pregnant women enviously or with anticipation when I saw them pass by, but instead with a sort of quiet pity.
So it was settled.  I was to have an abortion.  We set a date, we bought heating pads and chocolate snacks, and then we made a critical error: looked up what to expect during a medical abortion.  The stories were horrific, detailing extreme pain, emotional distress, sickness, complications, and violence.  It sounded more terrifying than childbirth itself.   However, we were in this together and would stick by our decision, come hell or high water – both of which seemed to be on the cards.
The day came, and off we went to the clinic.  We waited for hours and were sent on home with some pain medication and the medication that would end my pregnancy, to my relief.  While talking to the doctor, he asked what I do for a living.  I told him that I am a teacher, as is my husband. It was as if I had told him that I'm a secret Soviet spy. He immediately recoiled, unable to control his facial expression. To make matters even more surreal, he then quickly cleared his throat and said, "That's nice." Seriously?  It would have been better if he said what he was thinking: But surely, if you're a teacher and a woman, the only thing you could ever want is a baby! Surely, in some way, you're now no longer safe around those innocent children!  The doctor then asked my husband to leave, and asked me if I was being coerced into this abortion.
My abortion was nothing like what I had seen in the media. In fact, I hadn't seen any abortions in the media at all.  My mind seemed to have even forgotten that it was possible, and my actions seemed separate from reality. Adults don't have abortions, after all; only slutty high-school students do.  Adults think about abortions, but never actually have them. I am reminded here of two movies in particular: "Saved" and "Juno".  In both movies, the characters are so underdeveloped that the idea of an abortion is only a fleeting thought, just enough to make the viewer know that the character is ultimately a "good girl" and "doing the right thing".  Oh, and they were both silly kids, so the idea of an abortion is more acceptable. If they were thirtysomethings, abortion probably wouldn't even have been shown to cross their minds.
My view of abortions, shaped by this sort of media, was that it would be an awful, gory, painful mess – like a surgery gone wrong or something out of the "Saw" movie series.  But, it wasn't. It was painless, thanks to the medications the doctors gave me.  It was funny, again thanks to the pain medication.  My husband and I got to spend two days together watching movies and eating sweets.  We bonded.  We talked about what we would name our children when we decided it was time to have them.  We both came to the realisation that we were doing nothing wrong.  We are in control of our bodies and we have the right to choose when we do or do not have children.
I'm reminded again of a media influence: "The Walking Dead".  My situation wasn't exactly ideal for rearing a child.  But a zombie apocalypse?  What could quite literally ever be worse?  When a main character in the series gets pregnant, she immediately decides to have an abortion.  I certainly would have made that decision as well, and would have enjoyed seeing her develop into a more well-rounded character.  But what does she do?  She breaks into a pharmacy and steals Plan B morning-after pills. She then swallows about thirty of them, regrets her decision, induces vomiting, and is discovered by her husband.  Instead of being concerned for her mental and physical well-being, he is immediately outraged that she is trying to preserve her own life and wait until a better time to have a child.  Like, you know, maybe not a zombie apocalypse?
Not only is this a twisted thought process, but now, millions of viewers also think that the morning-after pill is the same as an abortion.  This means that many women who are uncomfortable with the idea of an abortion will not seek out Plan B, which may lead to an unintended pregnancy.  And thus the cycle continues.
How does all this affect us as women and male feminists?  Especially in the US, we are inundated with representations of abortion that are simply and completely inaccurate.  We are not educated about family planning, and the subject is largely taboo among our friends and family.  So where do we turn?  The media, of course!  And what does the media tell us?  Abortion is bad, painful, immoral, a last resort, completely undesirable, sad, tragic, traumatic.  I would like to see an abortion portrayed how mine was: like a cosy sick day. Hell, I would even like to see humour. As I said, my whole experience was kind of funny. I don't feel traumatised, and I don't stare out the window on rainy days with a sad backing track and wonder what might have been with a baby that never developed.
Sometimes, however, I do feel guilty for not 'sticking it out' and 'doing the right thing'.  My husband feels the same.  But then I think to myself, who is telling me that I should feel this way? Because I know, with a deep certainty, that the answer is: not me.  I am thoroughly enjoying not being pregnant and not having a baby, and I refuse to apologise for it. I believe that I made the right decision for all of us. And I hope that by the time I am ready for children, they will feel the same kind of ownership of their body and choices, and receive an accurate and helpful reproductive education. Because, put simply, getting an abortion turned out to be the best decision I ever made.