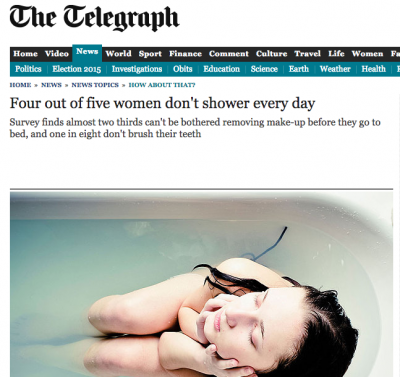 Being a placid kind of person, not much riles me. The other day a lady pushed in front of me to get on the bus and I simply bit my tongue and rolled my eyes theatrically. Another other day, a man on a motorbike accelerated towards me as I crossed the road (whilst the crossing was on a GREEN man, I mean really!?). I gave him a sarcastic thumbs up and said "great driving pal!" as he screeched to a halt yards away from me.  See, I'm pretty chilled.
Imagine my bewilderment, then, at finding myself entirely outraged by news article I happened across whilst indulging my late-night Twitter habit. It starts out relatively interestingly, and I have to admit I was suckered in by the click-baity title, which sounds just a bit too bad to be true. It reads: "Four out of five women don't shower every day." Now, this was intriguing. There's something satisfying about the "survey reveals nation's darkest secrets" genre of news. A couple of favourites of mine include UKIP supporters saying they're not racist, but admitting to "being prejudiced against people of other races" and US students admitting they would engage in a described act of rape, but not admitting to being a rapist. Surveys get to the bottom of what the public is really up to. The things we wouldn't even tell our Mum about but happily share on an anonymous online survey in return for online shopping vouchers.
Also, my interest was piqued because I've been known to go more than 24 hours without showering on the odd occasion, and while I don't exactly go about gleefully telling people, I don't really see it as a big deal. So I was interested to see if foregoing a daily shower was going mainstream and I could now go public with my (occasional) non washing without fear of being scorned by family, friends and colleagues.
However as I kept reading it became apparent that the survey, of around 2,000 women, had been commissioned by a skincare company (which I will not name because they don't deserve the web traffic.) And there was more, in addition to not showering, two thirds of these stinking female examples "can't be bothered" taking off their make up at night and one in eight "admit" to not brushing their teeth. The slightly hectoring tone had already started to raise my hackles, but I persisted.
And then it arrived, the final nail in the rage coffin. The payback for the couple of grand the company spent on research. The statement from a company spokesperson. This says the women who responded to the survey know what they "should" be doing to look after their skin but just aren't taking the "mere minutes" out of their day to do it. The lazy, filthy harridans! There's almost a moral edge to the wording suggesting these lazy women who have so "alarmed" the easily-shocked people at the firm with their lack of daily skin routine will probably go on to age hideously (I mean worst case scenario, right?­) and it will all be their own fault.
So, perhaps unsurprisingly, some reasonably interesting survey results had been used as a vehicle for a vested interest to browbeat women (who by their own admission tend not to have a lot of time on their hands) for not dedicating enough of their time to their skincare regime. It's the classic routine of making women feel like they aren't good enough in order to sell them products. Point out a problem that doesn't exist, and sell them the fix. It's as old as the hills, and it's sure not getting any more effective. Who says the PR team of a face cream company can stand in judgement of my laughable skincare regime? I'm fed up of being made to feel that I'm not good enough, that I'm a crap human being because I'm not spending more on expensive goo for my face.
We're all grown-ups here and I know that they are looking to get their brand name out there, and looking at it in a simplistic way they've achieved their objective by getting coverage in a national paper. But unless we vote with our feet, and send the message that this isn't the way to go about it, companies won't learn to find ways to PR their product which don't belittle women and pray upon their guilt.
So here it is: My Dirtbag Manifesto. This is what I'll be doing to insure myself against this kind of nonsense. Join me. Join them if you believe that however good you are now, whatever you might've achieved today and however radiant your skin already is, you won't be good enough until you've worked out how to cobble together £40 for some eye cream.
I vow:
1.   Not to feel bad if I end up washing less frequently than every day.
Being an adult, I'm pretty sure I can decide for myself whether I need to have a shower, bearing in mind all the relevant factors. Maybe I'll make myself a flow chart. Seriously, it's not a big deal. Teethbrushing needs to happen though, that's a solid gold rule.
2.    Definitely not to be guilt-tripped into spending even more money in Boots than I already do on fancy products.
I reserve the right to decide to get into fancy skincare products in future, maybe when I've got more disposable income because I've finally tired of drinking craft ale. But I'm pretty sure I won't buy them from companies who harangue women into buying their stuff.
3.     Decide myself whether I'm so bothered about my skin looking shitty that I want to spend my time thinking about it and tending to my face in the mirror every day.
At the minute I'm prioritising catching up on Breaking Bad, learning how to play House of the Rising Sun on ukulele, and trying not to fall asleep with my phone on my face every night.
4.     Feel the rage, use it for good and call out companies who employ this kind of technique to hawk their product. Even if it's just a sarcastic Tweet.
It's the only way they will learn. Baby steps and all that.
- Claire Wotherspoon