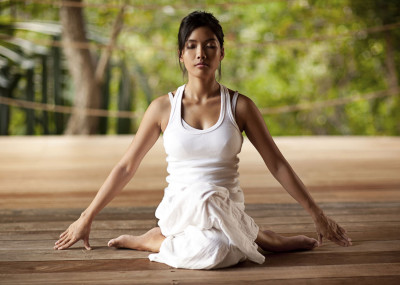 Before I begin, a disclaimer: sport is not my thing. For most of my time at school, I had a highly unoriginal excuse to get out of it (three periods a month was my personal best.) So I'm not exactly the kind of person you'd describe as 'active'. Nor am I the type to shop at Wholefoods, think that kale chips are an appropriate substitute to the real thing, or Instagram myself in yoga poses on top of mountains at sunrise and tweet them. In the immortal words of Skepta, That's Not Me.
Yet, I have found myself hooked on yoga. It's not just for yummy mummies, new age hipsters and gym aficionados – in fact, all these unhelpful stereotypes that yoga is linked to has obscured the fact that it has been one of the most feminist activities I've partaken in. So hear me out.
Through the brilliant vinyasa sessions at Yoga To The People in New York (if anyone has found an equivalent in London, then recommendations welcome!) as well as more traditional hatha yoga back at home in London, I have become more appreciative, aware and accepting of my body – and in turn have been able to give it the compassion and respect it deserves.
Yoga has endowed me with the body confidence that no other exercise – or activity – ever afforded me. It's made me realise that my body is something to be celebrated and that I should be proud of. I mean, it can't be an accident that two of the most popular poses are called 'goddess' and 'warrior'. When in the studio doing sun salutations or breathing exercises, I couldn't give two shits about what everyone else is doing, and how they look compared to me. It's a brilliant form of me-time where I'm able to focus on my body and my needs, push myself further when I want to, and step back when I don't. But more importantly, it has given me an opportunity to appreciate, value and connect with it during every stretch, salutation and pose, as well as off the mat. Yes, my body may not be svelte and toned (and is a feeling a little worse for wear post-Christmas party season), but I've learnt to appreciate it as a force: something that holds within it strength, flexibility and potential. It's a continuous process, but yoga has allowed me to develop compassion for myself in a non-competitive and tranquil space. I am no longer going to punish my body for not conforming to my unrealistic expectations of it because if my body can do a plow, then my body is FIERCE and therefore so am I.
While of course each session allows you to practice and perfect each pose, more important is the connection you form with your body and breath. It's not about competing with others or yourself, but about a deep exploration of your body. It is practice-, rather than goal-oriented. In each session, I learn a little more about how my body works and what it is capable of, and in the process some of my many body hang-ups fall aside.
In that hour, I feel like I know my body infinitely better than a good fifteen years' worth of imbibing magazines' expert advice on 'how to dress for my shape' or for any man. I don't believe that I need to starve myself on weird-sounding concoctions anymore. And if the latest look I love is "unflattering", whatever. If 'he' – that omnipresent 'he' mentioned sinisterly throughout these magazines – doesn't appreciate that zebra print jumpsuit that you absolutely adore despite the fact that a) you feel like a BOSS in it, and b) you bought it in a vintage shop where they were playing Haddaway as you stepped in, then he's probably not worth it anyway.
As anyone who has left yoga class totally blissed-out can testify, yoga cannot be separated from its meditative/mindfulness element – and as more and more scientific research is demonstrating, this is incredibly important. On those days spent in the throes of an existential/quarter-life crisis, where the haters keep on hating and the rat race keeps on racing, where you leave and arrive home from work/unpaid internship in the dark after a shitty commute following a signal failure, have some kind of wardrobe malfunction, and spend no small part of your day contemplating an apocalyptic post-election outcome where the new cycle hire bikes are a questionable shade of UKIP purple … even five minutes in savasana/corpse-pose allows you to distance yourself from the problems, over-projections, and over-analysis. And while I don't dispute that it is good and important to be angry about things and channel that into something productive, at the same time, for the sake of emotional, mental and physical freedom, meditation allows you to switch off, be in the present, and LET GO of all the irrelevant things that make you sad and stressed. Of which you may well find there are many.
All of these things that yoga cultivates make for better sex (alone or with a partner), and not in a 'position of the fortnight', 'look at how these human beings/Barbie dolls are more flexible than humanly possible' kind of way. At a recent feminist book club we discussed 'Vagina' by Naomi Wolf, and the connections between good yoga and great sex became astoundingly apparent to me – not least as she references the ancient yogic practice of tantra. Yoga serves as a reminder that it's not just a race to orgasm, pleasing someone else at the expense of yourself, or conforming to a certain ideal of how it's supposed to be. Sex and yoga can allow us to practice and value intimacy, connectedness, and consciousness of the body and its sensations – engrossing oneself in the moment rather than thinking about what's for dinner or making a mental to-do list for tomorrow, or just waiting for it to be over or faking it because you're not feeling it. And in the process, effective yoga practice translated into sex makes for heightened relaxation and arousal – and with it, more confidence, creativity, and all manner of other good things. Might sound new age to you, but it feels pretty great to me.
So to all my fierce goddess warriors, and to any new recruits, here's to a 2015 free of self-recrimination but full of savasana. If you can't beat us, join us – and I fully guarantee that you will enjoy it, even if you were the type to have three periods rather than attend gym class.
-Alisha Patel