You'd think that by the 21st century we'd have grasped the concept of sexual consent. After all, this is the age of the internet, the era of the cronut, the decade that conceived the fourth wave of Feminism, Tinder and the iPhone 6. So you'd think that we'd have got our heads around the idea that no means no and yes means yes. You'd think.
Sadly there are still complications and, apparently, confusion when it comes to consent. Statistics show that rape and sexual assault are endemic in the UK with an estimated 85,000 women raped and 400,000 women sexually assaulted every year. Recently an article by Emmeline May, who utilised a simple, yet effective cup of tea metaphor to demystify consent, went viral. Quite literally creating a storm in a teacup, there was a huge outcry in response to May's piece:'The best we've heard in a long time' – Cosmopolitan.  'This should be required reading' – Bust Magazine … and so on. A brilliant analogy with a comic twist, it's a good thing when a piece like this makes so much noise, right?
Well yes, but it's actually quite depressing because it gives rise to our miserable reality: this conversation still needs to be had. There is still some confusion around what constitutes as sexual consent and how it is given. The debate is ongoing. Even now, some people are still not clear.
This month the #ThisDoesntMeanYes team launched its campaign in a further bid to set the boundaries, clarify any grey areas and rule out blurred lines. Setting up a pop-up studio in conjunction with Rape Crisis and world-renowned photographer, Perou, we shot over 2000 photographs and pictured over 200 women at an open casting call in London. We set out to capture women in a moment that was their own and to shed light on their individuality. We wanted to give them an opportunity to celebrate their self-expression – the fact that the choices they make in their clothing are for them and that however a woman is dressed she is never 'asking for it'.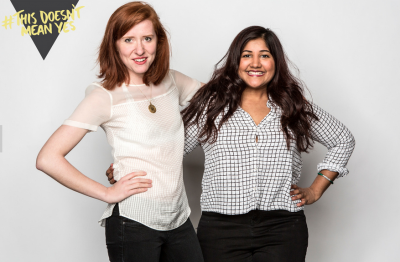 At first, our mission was to start a debate around consent and to challenge this insidious fable. Because you see what I wear and how I behave has nothing to do with your cock. My flirtatious disposition and sexual appetite is nothing to do with you. It is certainly not an invitation and I am not 'gagging for it'. How ironic that women are put up on a pedestal, expected to perform the physical, stylistic expressions of femininity that society demands of them, a performance that is created by the male gaze, only to be punished for it.
So when we first set out with the campaign we wanted to start a meaningful discussion about consent, but now, after hearing from so many women, our goal has changed and we want to end it. So that it's no longer 'required reading' and we're not excited when we stumble across 'the best' analogy about consent 'we've heard in a long time'. You might find is surprising that a recent Amnesty International survey found that one in three people believe that women who behave flirtatiously are at least partially responsible for their rape. And you might also be shocked to hear that more than a quarter of people think women are, in part, responsible for their rape if they wear revealing clothing.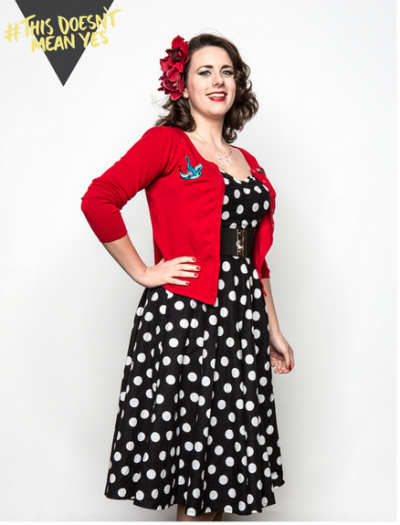 There is no mystery around consent, no common misconception, no loop hole. A red lipstick is not a yes. A little dress cannot, in a sudden and unprovoked move, come to life and whisper sweet I-want-you-to-fuck-me nothings into a man's ear.
The campaign sets out to empower women and give the control back to them and now its embarking on a life of its own with women taking photos of themselves feeling empowered alongside #ThisDoesntMeanYes. We want to strip away the shame that other anti-rape campaigns depict and challenge the notion that a woman plays a part in her rape because of what she's wearing. Because it's not your fault and you have every right to express who you are and be who you want to be.
Every woman has the right to freedom of expression and no woman deserves to be raped for it.
-TDMY Team