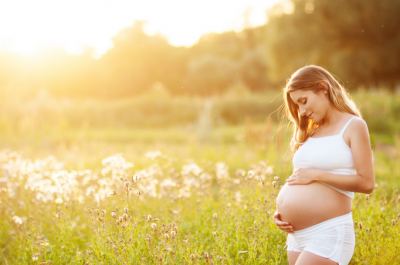 …and all the pregnancy propaganda around is making it worse
Last November I found out I was pregnant. I have been married for 5 years and I am nearly 32. My husband and I had talked about babies and both said how important it was to us but neither of us felt an urgent rush. We were enjoying "being adults" and, for the first time in our lives, having a bit of disposable income. There were whimsical nights of unprotected loved-up madness that we obviously knew could lead to a baby and, I suppose, in my mind was the idea: well, we're both employed, we own a house – it wouldn't be a disaster…. I certainly would prefer to have a happy accident than become obsessed with when I was ovulating'. And yet, bizarrely, on same the day that my beloved grandmother finally died after an awful, prolonged battle with cancer, I realised that my painfully engorged breasts were actually telling me something important.
I didn't think 'hooray' and I didn't think 'Yessss!' and punch the air. My first thought was 'Fuck.' My second was, 'if I had an abortion would I be able to keep it a secret?' My husband's reaction was impassive as he watched me panic. Neither of us had thought it would actually happen.
I booked an appointment with a doctor to talk through options and, in the meantime, thought about options. My husband very much took the stance: 'it's your decision, I'll support you either way.' Supportive but useless. I wanted him to say: 'please keep the baby it means everything to me' OR ' please don't keep the baby, we're not ready.' But he didn't. My hormones starting charging and my imagination went mad. I imagined the baby's life. I felt guilty about its existence. I envisaged a little version of my husband running around and it was a nice thought. I rationalised that if I ended this baby's life and then couldn't fall pregnant again I would be inconsolable so we might as well just get on with it.
The support and care from all the midwives has been amazing. Our families and friends are ridiculously excited. There have been incredible moments for us, like when we had the first scan and realised our baby really existed. The look on my husband's face when he first felt it kick is something I will remember forever. He has been amazing. He reads the baby a story every night, he sings it songs on the guitar. We have made a beautiful nursery for our baby, full of tiny clothes and apparatus to ensure that every one of its physical needs are met. It should all be happy days.
However, on the whole – and maybe it's because I am not one of those women who have dreamed of being a mother all her life – I have found pregnancy physically and emotionally somewhere between very hard and totally traumatic. I can't do all the things that I love anymore, like surfing and running. I have been extremely anaemic from the start and therefore, whilst I have luckily avoided all sickness and cravings, I have been utterly exhausted and needy. My skin, which has always been a victim of psoriasis, has hit an all time low. My breasts and bump are covered in bright red, angry flaky scales. The extra weight I have gained (that I just don't like) is putting huge pressure on my thigh arteries causing very sharp pains and a lot of cramping in my calves and lower back, especially at night-time. I resent having to pee three times a night and I hate the fact that I can't walk up a hill without nearly fainting.  I feel like people all around me, lots of whom I have never spoken to before, feel the need to tell me how well I look (I don't), how "tidy" my bump is, how wonderful it is to be pregnant, how excited I must be and how good it is that I am managing to drag myself into work despite feeling rough most of the time. When I tell them how I actually am they look on sympathetically and say 'it will all be worth it in the end.'
I am bombarded by social messages of how good, right and enjoyable it is to be pregnant: 'blooming' 'radiant' 'natural' 'happy'. Everywhere there are pictures of celebrity Mums who have a lot more time to rest and be pampered than us "real life" Mums-to-be who are madly working for as long as we can to save up for an inevitable penniless life that awaits post birth. Unlike the social messages I get, all I feel is 'vulnerable,' 'needy' and 'terrified.' I am not OK with how my body has changed and I am resentful that I don't feel well and energetic like I used to. I hate people telling me how worth it it will be in the end because I don't always believe them. How can they know this?
In a few weeks' time my already badly transformed, disfigured and battered body, will be either sliced or ripped open during hours of excruciating pain. Rather than have any time to physically and mentally recover from this traumatic ordeal I will be expected to chain myself to the baby by my breasts feeding it on demand every two hours like a bridled dairy cow. My vagina or/and abdomen will be transformed beyond recognition and I am supposed to be OK with that because my baby's arrival makes 4 weeks of heavy bleeding and an inability to pee without wincing all worthwhile.
It terrifies me to think that, unlike all the messages I get from social media, I won't just suddenly magically love my baby because I am supposed to. What if it's not 'all worth it in the end'?
It relieves me to be able to say this 'out-loud' and I am sure there must be other women who have found pregnancy less than enjoyable but on the main part, expressing opinions like these which demonstrate my failures as a natural super earth mother are just clearly not socially acceptable.
- Anon