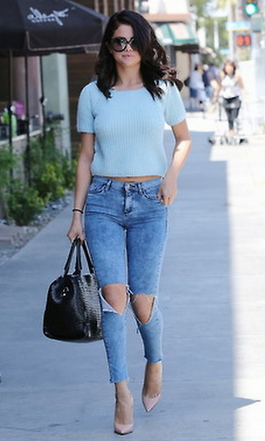 On every high street in the UK at the moment a sea of knobbly knees peeking out from ripped jeans will greet you as you pass by. Some of you might wrongly think that Primark's quality control has gone down the pan, and this is one serious factory fault. But no: these rips are perfectly symmetrical, with equal diameters across each knee – this friend, is the pre-ripped jean. And they're big this season.
According to Topshop's website, each £42 pair of jeans 'are toughened up with rips and tears to add some 'edge'. A well educated guess is that the 'edge' Topshop is referring to is a nod toward the youth subcultures of punk, heavy metal and grunge, who all adopted distressed denim as a visual symbol of social dissent. For punks, wearing jeans until they ripped in was a symbol of the fact that they refused to participate in capitalism; wearing jeans until they literally fell off your legs reduced the number of jeans purchased and was a big economic middle finger to shops and advertisers.
However, buying a pair of pre-ripped jeans is about as punk as the new Virgin credit cards decorated with the Never Mind the Bollocks album cover. You didn't rip those jeans climbing into empty buildings and sitting on curbs drinking Newcastle Brown. No, you bought them from the high street and those rips were put their by a migrant worker in Mauritius who got paid 22p per hour. There is seriously nothing less edgy in the whole wide world.
Ripped jeans have long been a fashion perennial, but why the sudden resurgence? If distressed and worn clothing is a cultural symbol for the rejection of capitalism, is high street fashion feigning resistance? Austerity chic is a bit rich coming from Phillip Green's Tory supporting, tax avoiding empire. Rather than an act of resistance, pre-ripped jeans represent the ultimate paradox in capitalist production and consumption. Topshop employs Sri Lankan, Indian and Bangladeshi workers in Mauritius where they work for up to 12 hours a day, six days a week for 22p – 40p per hour. Neil Kearney, of the International Textile, Garment and Leather Workers Federation, said: "because of the economic conditions of a country like Mauritius, companies are unable to attract local labour. Instead they recruit migrant workers, who pay a significant fee for the job. Many migrant workers who go to work in these garment factories are like slaves." That's right – someone is paid 22p for their hard labour to make your £42 jeans look like you give a crap about that sort of thing.
We live in an imperfect world and all of our clothing is made in unequal and wretched conditions due to global capitalism, but there are things you can do to minimise this participation – and one of those is to buy a pair of jeans that will last and wear them down until they actually rip, which might I add, is always at the crotch first.
-  Kirsty Major