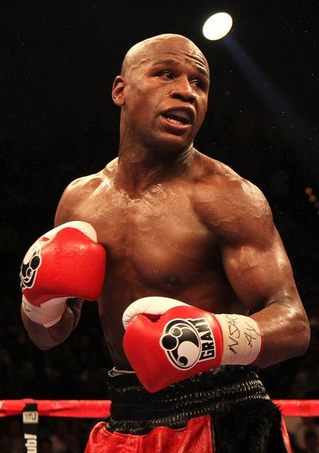 "How could she hug him?"
That's the question that kept running through my mind back in April as I watched Katie Couric interview Floyd Mayweather. Because Katie Couric is a journalist but she is also a woman. Floyd Mayweather is a famous boxer who was, at the time of the interview, preparing to fight Manny Pacquiao, one of the most anticipated match-ups in sport. But he is also a serial batterer of women. So I understood her interviewing him on a professional level but…how could she hug him? The arms that he put around her were the same arms he had when he was convicted of beating women in 2001, 2002, 2003, 2004 and 2010 (not to mention the accusations that didn't lead to convictions). They're the arms he had when Josie Harris, his former partner and mother of three of his children, said she was convinced he'd kill her. The fists at the ends of those arms are the same ones that punched her repeatedly in the back of the head, a type of punch that he, a professional boxer, knows to be particularly dangerous.
So how could she hug him?
She could hug him for the same reason that, following Oscar Pistorius' conviction for killing his girlfriend Reeva Steenkamp, journalists like Simon Jenkins in The Guardian felt comfortable saying they didn't think he should be jailed because, well, hadn't he suffered enough? And this isn't an attitude confined to sport. She hugged him for the same reason that countless reporters have kissed up to two time Oscar winner Sean Penn, despite knowing, somewhere in the back of their minds, that he once, in 1987, tied his ex-wife Madonna to a chair and beat her for hours. By the way, that's the same Madonna who was recently pilloried for kissing a man 28 years her junior while Sean Penn's actual engagement to the more youthful Charlize Theron is celebrated.
How could she hug him? She could hug him because the media treats the successes of abusive men as more important than their crimes? And every time they do that, they make it harder for women in abusive relationships to come forward. I know that because I was one.
I spent the better (well, worse) part of two years with a violent man who abused me emotionally, physically and sexually. He was arrested one night when an unmarked police car happened to drive past as he was choking me against a wall. It was the only lucky break I got during those two years but I, like so many women do in my situation, declined to press charges. The police, to their credit, encouraged me to do so, both that night and in a follow up interview. But I was terrified. He was my whole world- abusers have a way of isolating you to the point that you believe that- and what would our friends think? They knew he was troubled. That he drank too much. They all thought he was brilliant in his field and deserved more success than he had. They'd think I should have done more to help him. That'd I'd provoked him. They'd hug him and they'd turn away from me.
I am extremely privileged in so many ways. I'm aware, for example, that my experience with the police was not universal. I was a young, university educated white cisgender woman being attacked in a middle class suburb of Sydney so I have every reason to believe that I got more sympathetic treatment than I otherwise would have. I also come from a loving, close family who, when I eventually told them what had happened, were completely supportive. And yet even with all that, I didn't have the courage to press charges or even to leave him right away. Because society made it very clear to me that it didn't have my back.
I have blocked my former partner on all forms of social media and yet, 5 years on, traces remain. He shows up in the profile pictures of mutual friends, people who know what he did but decided it was too…awkward (?) to sever ties. When I returned home for a visit last year, I was invited to events he was at and though I explained, in as rational terms as I could, that asking me to break bread with my abuser was an unreasonable request, his invitation stood so I just didn't attend.
I've learnt to live with that. I've learned to live with people who call themselves feminist allies closing their eyes when a living, breathing woman is telling them their friend is an abuser. Because we do. We learn to live with these things or we go mad.
But I couldn't live with Katie Couric hugging Floyd Mayweather. The media owes it to us, to the countless women like me and like Floyd Mayweather's former partners, to not act like abusing women is no big deal. Mayweather reportedly said on in May that he would welcome a rematch, meaning this Mayweather mania could start all over again. He's certainly been a near constant presence in the news cycle for the last few months. But watching an athlete play their sport is not more important than an abused woman. Seeing an actor deliver an excellent performance is not more important than an abused woman. No film director's skills will ever be more important than an abused woman.
Every time a public figure hugs one of these men, they are putting the arms of every violent man around them. They are putting the arms of my abuser around them. And they are reinforcing the idea that if women leave, they'll be on their own. We deserve better than that.
- Brydie Lee-Kennedy