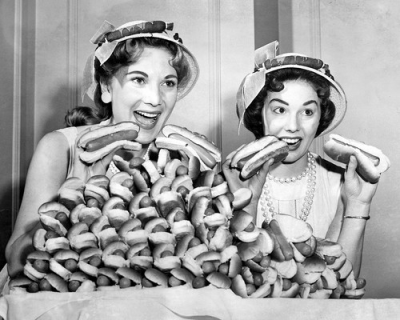 Confession. I've just watched a whole bunch of porn while my Dad was downstairs. Every now and again I could hear him shouting up above the moaning "do you want a cup of tea?" (yep, I watched the porn for long enough that more than one cup of tea was acceptable – and thank goodness, it was thirsty work). I'm happy to confess this as a (single) 26-year-old who moved back home a few months ago. Watching the porn felt naughty – but not in the sexy "let's go shag up against a tree in my neighbour's backyard" kind of naughty, more like "not only have I still not learnt to keep my room tidy, I am a terrible and disrespectful daughter" kind of naughty.
But it's not all that bad. Truth be told, I was watching the porn at 4pm on a Wednesday afternoon because I was curious. That's normal, right? Of course it is. But as arousal levels rose, and I moved from erotic to erotic-er, I had to check myself and question if it was actually pure intrigue. I realised that, as a gay girl watching straight porn with a look of disgruntled horror spread across my face, it was safe to say that it was just curiosity.
I watched all sorts: a casting in which the porn director took the auditioning girl for a "test ride" (and no, not in a car); a piano teacher who stood with her breasts so close to her young female pupil's head that they had no option but to have sex – on the piano; a girl having far too many things put up her arse, including a fist and some kind of clamp. I even managed to fulfil one of my life goals set at the age of 15; to one day watch a Jenna Jameson porn vid, after catching sight of a picture of her at a house party. Imagine my surprise when this free-streaming porn site came up with the goods: a softly lit, beautifully accompanied by music, rather tasteful recording… set in the cockpit of a cruise ship and finishing with a shot of the ocean. Ahoy, be that an iceberg yonder?
The videos all captivated me for different reasons. How could they not when lines such as "I've made a little crater in your butt" came forth in abundance? My response would have been "wtf, why, what do you mean? I exfoliate that shit and now you're telling me you've put a great big fucking crater in it?" so fair play to her for keeping calm. Top on my list, and "most viewed" on the site, was "Cutest Girls Cumshot Compilation #1″. Beautiful shots of girls climaxing, thought the gay voice in my head. Or… hundreds of beautiful girls getting their face splattered by men's love juices. I can only assume that there is a lot of porn that ends with a good old "jizz to the face". You can tell the girls loved it anyway; one went so far as to say "wow, it's so warm" to show just how she adored it so. Just like having a warm bath, I bet.
My first thought: "quick, someone fetch her an eye bath – it's in both of her eyes". Simultaneously: "Assault! Assault! He's aiming for the eyes with the intent to blind, or at the very least some pretty unpleasant conjunctivitis". I sat through 11 minutes of semen-splattered faces. 11 awful minutes in which I finally realised that I was on the cusp of being turned on and I really didn't want to be. I felt like a dissident who was being punished – by my own body, rather than a political regime. I'm not anti-porn, but my brain is against a man ejaculating onto a woman's face (too many related ideas of female subordination at the hands of male sexual dominance, blah blah), while my sexual organs can't seem to get enough. I always knew my vagina was out to get me.
Yet, ask my girl friends who let their fella come on their face if they love or even like semen, many will say no. Or perhaps more politely say, "I don't mind it", but then innocently mention how the room needs "freshening up a bit" after her man has offloaded. I can only imagine that for some girls, having semen propelled into their face might be about as desirable as bathing their skin in rancid milk. I'd be there with the rest of them, dousing myself in mouldy dairy produce, but my ladybits would still be awakened by the porn as they were all but an hour ago.
So, picture the scene. You've got men watching porn made for men. The well-known point need not be laboured, but – cue "lesbians" giving blow jobs to dildos, women gagging on cocks hitting the backs of their throats, women licking come off other women's butts (vid #3 today), and generally your archetypal aggressive, can't-sit-down-the-next-day, kinda sex. Then you've got women who like this porn because they like anything that gets their man off. Then you've got women watching this kind of porn to learn what men want so they too can try and like or do what men want. Then you've got women feeling awkwardly drawn to this porn, despite it crushing all of their sexual, ethical and moral standards – like me. And then – I imagine – you've got women who genuinely do like it.
So where does this leave us? A multitude of women (and men) complaining about the state of porn, how it degrades and distorts; yet many can't get enough of it. How do we make the case for a much-needed change in porn culture if we're still watching it – openly or on the sly with our dads downstairs in the kitchen doing an altogether different type of teabagging? Is it just for lack of a better option? Would we really do this stuff? I'd love to know what you think about porn.
Jacquelyn (@jacsgud) is part of the What I Think About Porn project. Follow the project and tweet your thoughts to @witaporn or visit whatithinkaboutporn.com to share your thoughts on the state of porn today.