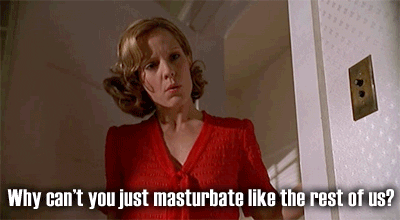 "We have sexual feelings and we deal with them ourselves…Just to be able to talk about female masturbation…I find the subject both really moving and incredibly politically empowering that women can give themselves pleasure and enjoy their own bodies but it's also really funny!" – Caitlin Moran.
In this Swedish interview, Caitlin Moran (who, in the interest of full disclosure, happens to be my hero) is telling the interviewer how masturbation can be empowering and is the first step for young revolutionaries to take towards liberation. I happen to agree.
Now, if you genuinely have no sexual drive or desires then please disregard this article (but if you ever change your mind…) In the interest of attempting to 'check my privilege'; I know that not all women have positive relationships with their bodies due to factors beyond their control. There are many occurences of illegal FGM in this country as well as others, and there are other abhorrent practices that are inflicted onto some women that will obviously affect their opinions on this topic. LGBT folks may have a totally different experience of masturbation than I, as a straight white female, do and I appreciate they also may not share my feelings on this. I am not attempting to speak for these people.
For others with experiences similar to my own, I think there's a strange rhetoric surrounding female sexuality in this country. From a young age I was taught at school that those poor little testosterone-fuelled boys might get aggressive and they might get erections that they can't control and they might have wet dreams and they might have urges to masturbate. All of which is true. Adolescence is a minefield of hormones and teenage angst and awkward moments. But let's be honest, when my male friends spoke about wet dreams and stiffies I wasn't all that jealous.
Despite all this talk of male masturbation, I genuinely cannot remember anybody telling me how the clitoris works. I know I was shown diagrams but nobody actually ever said: 'some women don't orgasm through vaginal sex. Some women have to stimulate their clitoris to feel those sensations and eventually orgasm.' Nobody spoke about the fact that women are just as likely as men to feel sexual urges and desires, that women may enjoy casual sex and may not want to cuddle afterwards, and may not even need men because actually they just like to give themselves a good time. That didn't seem to be an option according to the 'facts'.
I can't believe I'm having to say this, but isn't it important that we learn about both female and male sexuality? Isn't it obvious that people are all different, that we all find our sexuality in alternative ways and with different, varied, nuanced desires? That's a lot of flexibility! Can women have the same sexual urges as men? Well, yeah. Their bodies might be different but the desires can be equally as powerful.
I grew up in during the very first explosion (excuse the pun) of the internet porn industry. I started high school in 2001 and in the area I live in the majority of homes had a computer with internet dial-up (Who else loved that little AOL thing?! The noise made me feel like I was getting on a spaceship. What even happened to AOL?) My peers were naturally interested in porn and chat rooms. My older brother, thankfully, prevented me from using uncontrolled chat rooms because he knew what went on in them, and, actually, I didn't want to look up porn on our whole family's computer in a room that we all shared with open doors; it didn't feel appropriate to me. But if I had, that's my prerogative. Just because I was a girl didn't mean I shouldn't be interested in that.
Meanwhile, a generation of impressionable young men were looking at the output of a porn industry that was generic and just in its formative years. They clicked on 30-second clips of anal sex and of women miraculously ejaculating after a man puts his 12 inch dick near her face. Essentially, they looked at lies. But how were they to know that this was a lie? How were they to know that women's pubic hair is their own and they can do what they wish with it? Calling pubic hair disgusting, as my male classmates did, makes no sense at all. You might not like it but it's hardly OFFENSIVE. Yet, because these boys that I went to school with saw hairless bodies in pornography they assumed it was normal to shave; they thought girls and women should be conforming to a stereotype that came from an industry in which there was something bizarre and terrifying in its portrayal of women.
Making a teenage girl feel as if the natural things her body does during sex or the way her hair grows are somehow repellent or repulsive is damaging to the way she sees herself, her body, the way she fits into society and her role in a sexual situation. I'm not anti-porn. I just want options. I want there to be a serious and dedicated sexual and relationship education (SRE) course in this country that is continually adapted to encompass the way our society evolves, and that acknowledges the ways in which sexuality can be in flux and the ways we can enjoy our own bodies. Mostly, we need to talk about respect and consent. You can't dictate a person's sexuality, but you can explain how to prevent another human being feeling coerced, abused or uncomfortable.
This was all over ten years ago so you would hope that the industry has progressed to encompass more female sexuality, right? Well, if anything it might have become more regressive. Some new legislation brought in recently has introduced more restrictions on what can be shown in the pornography produced and sold in the UK. According to the Independent: "Female-centred pornography seems to have been hit particularly hard, with female ejaculation completely banned, but male ejaculation remaining unrestricted." Erika Lust, an erotic film director, also made some interesting comments on the new laws: "what is most apparent is the enforced restriction on what appears to be acts from which women derive pleasure". She also pointed out that we are harking back to "an age where porn is simply the boring, unrealistic male fantasy of bimbos eagerly pleasing men…where women are submissive and lack ownership of their sexuality."
So, essentially, seeing women experiencing pleasure or being sexually dominant is unacceptable and there is an inherent assumption that women do not consume or enjoy pornography. Surely by now female sexuality should be on the agenda?
The reason that Caitlin Moran (and I) believe wanking can become the call to (peaceful) battle is that most revolutionaries– particularly young ones with raging hormones – whether they are rich or poor, educated or skilled, whatever gender or sexuality, can find the time and inclination to get to know their bodies and explore their ownsexuality. It seems obvious to me that you must master your own body and your desires, get to know the incredible powers your body possesses and own your sexuality BEFORE another human being helps you along the way. This would mean the power and control are all yours, that you are aware of your body's incredible beauty and frankly amazing capabilities (I realise this sounds a bit new-age hippie but, seriously: your body is beautiful. We do not articulate this enough). 
Once you have mastered your (beautiful) body (get used to thinking it!) and your sexuality (and your mind and soul if you are feeling meditative about it) then you can work outwards, comfortable in the knowledge that you are in control and sexually satisfied all by yourself. Then you have a strong foundation to change your life and move away from the pressures of culture, society, that pesky patriarchy, and even the influences of your friends or family.
Unfortunately, this wasn't my experience. My first sexual partner, a boy I was madly infatuated and in love with in our bizarre teenage way, and I fumbled our way through almost a year of sex before I actually had an orgasm. It was a revelation and a shock to us both. Although he was wonderful and lovely, I always look back and wish that I had known my body a little better. Perhaps if we were more open about female sexuality in our culture and in SRE in schools then I might have taken control of myself and my sexuality before another person gave me that experience; wouldn't that have been more liberating and empowering?
I do not pretend to speak for all women but I am definitely with Moran. Thankfully, female masturbation is very slowly becoming less taboo. In an attempt to remove the discomfort surrounding female sexuality, the Swedish Association for Sex Education have even coined the term 'Klittra'. It's a mixture of the words for "glitter" and "clitoris", and, far from being a new way to describe the vajazzle (and franlkly if you're putting that shit on your clit you're doing it wrong) it's a fully functioning verb for what your fanny does when you stimulate it enough. You've gotta love those Swedes.
The more we can encourage talking about 'klittra' in a positive, normalised way, the more female sexuality will become normalised in the same way that male sexuality is. I genuinely think this will help to bring LGBTexperiences into the conversation, too. Spread the word; we're starting the revolution with klittra.
- GM